Compliance Structure
Basic Compliance Policies and Compliance Structure
In the non-life insurance industry, which is an important element of public infrastructure, companies are required to comply with laws and regulations and demonstrate high ethical standards in every aspect of their professional conduct. The business of Toa Re, the only full-line comprehensive reinsurance company headquartered in Japan, is based on globally accepted, free and fair business practices, and moreover, on strict compliance with the laws and regulations and the high ethical standards that constitute the essential foundation for those practices.
Our company has never received any administrative order.
1.Basic Compliance Policies and Code of Conduct
Toa Re has established the Basic Compliance Policies, which articulate the Company's mission expressed by its motto "Providing Peace of Mind," and the Code of Conduct to ensure that the policies are put into practice.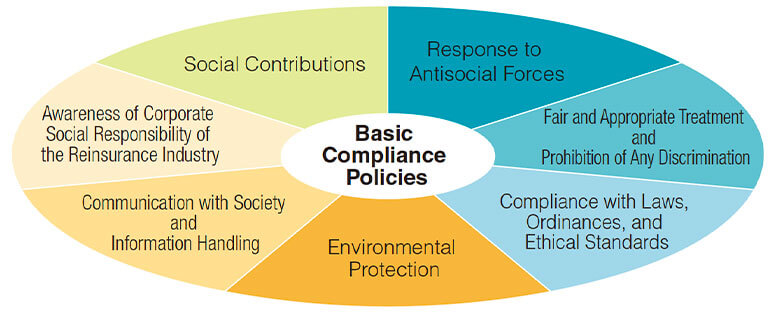 2.Compliance Structure
History of Toa Re's promotion of compliance

AUG.
2000
The Basic Compliance Policies is established.
SEP.
2000
The Compliance Department is established.
APR.
2001
Code of Conduct, the Compliance Program and the Rules of Compliance are established. The Compliance Manual is formulated and distributed to all officers and employees.
AUG.
2002
The Compliance Manual for the three overseas branches is formulated.
APR.
2003
The Information Security Policy is established.
MAR.
2004
The Compliance Handbook is prepared and distributed to all officers and employees.
APR.
2005
The Privacy Policy and the Personal Information Handling Rules are established.
MAR.
2009
The Rules concerning the Act on Prevention of Transfer of Criminal Proceeds are established.
JUN.
2009
The Conflict of Interest Management Policy and the Conflict of Interest Management Rules are established.
The Basic Policy for the Antisocial Forces is established.
APR.
2011
The Compliance Manual is published on the intranet.
JUN.
2012
The Handling of Antisocial Forces Rules is established.
DEC.
2014
The Outsourcing Management Rules are established.
MAY.
2015
The Whistle-blowing Rules are established.
OCT.
2015
The Specific Personal Information Handling Rules are established.

Compliance Structure and Activities

The Company has established the Compliance Committee, which is chaired by the president and whose members include an external lawyer. In addition, the Company has established the Compliance Steering Committee comprising department managers who are appointed as compliance officers. Each department assigns a person to serve as a compliance supervisor, in order to promote compliance activities as a whole organization.

Each fiscal year, the Board of Directors establishes the Compliance Program, a concrete compliance implementation plan, and on the basis of the program the Company conducts education and training and engages in other compliance activities.

Putting in place similar systems at overseas branches and subsidiaries, the Company is striving to strengthen compliance throughout the Group.

Whistle-blower system

The Company has established points of contact for employees etc. to report or seek consultation and advice about any unlawful conduct in the Toa Re Group. The Company has put in place a system for reporting to the Compliance Committee, the Board of Directors, and Audit & Supervisory Board Members to enable swift implementation of corrective measures. The Company has also put in place a system to ensure reporting to the supervisory agency if a matter reported is deemed unlawful.
■Compliance Reporting Structure