Japan's Insurance Market
The Toa Reinsurance Company, Limited publishes a report on Japan's insurance and reinsurance markets each year in English. It covers non-life and life insurance market and product trends, and provides various third-party perspectives on themes including risk management and regulations.
This year's report, Japan's Insurance Market 2021, presents the following:
Japan's Insurance Market 2021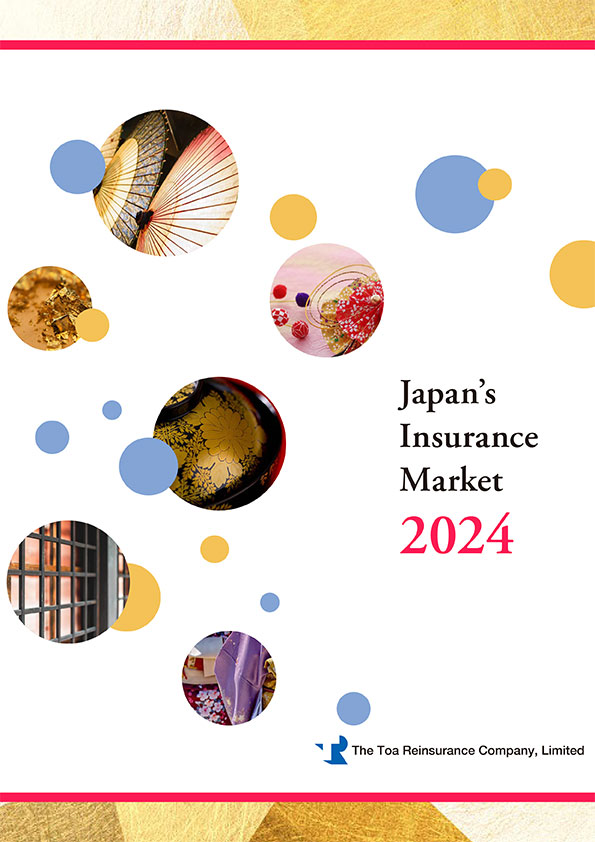 1. Trends in Solvency Regulations in Japan and the Response among Insurance Companies
Nobuyasu Uemura, Ph.D.
Professor, Faculty of Commerce, Fukuoka University
2. Climate Change: The Situation in Japan and Impact on Non-Life Insurance
Toshio Koshiba
Manager, Senior Consultant, Risk Assessment Section, Corporate Planning Department
MS&AD InterRisk Research & Consulting, Inc.
3. Influence of Short-Term Climate Variability on Climate Change and its Possible
Implications for Risk Quantification
Kazuhiro Tsubono, MSc., Hongyuan Li, Ph.D., Oriol Gaspa Rebull
Aon Japan Reinsurance Solutions Analytics
4. Trends in Japan's Non-Life Insurance Industry
Non-Life Planning Department
The Toa Reinsurance Company, Limited
5. Trends in Japan's Life Insurance Industry
Life Planning Department
The Toa Reinsurance Company, Limited